WHAT:(Illegal) Immigrant advocates shared plans for a full participatory process resulting in an "Illegal Immigrant City Agenda" to be presented to the new Administration during the transition.
WHEN: Monday, November 4th, 11:00 AM
WHERE: Steps of City Hall
           ILLEGALS UNITED FOR JUSTICE AND OPPORTUNITY
10 End Unlawful Police Practices & Surveillance of Muslim, Immigrant Communities introduced by Sarsour (held by Faiza N. Ali,
Organizer & Muslim community activist)
9 Fight for DREAMers and Immigrant Youth (introduced by Sarsour/Held by SEIU 1199 Rep)
8 Fight for Legal Indentification Documents and Licenses for Undocumented Residents (held by Faiza N. Ali)

7 Ensure Resources For Services to Immigrants (held by SIEU/1199 Rep)
6 Support for Fair Treatment of Immigrant Workers (held by Faiza N. Ali)
5 Support Immigrant Students' Path to Success (Held by Seiu/1199 Rep)
4 Expand Civic Participation of Immigrant Communities (Sarsour Holds this sign)
.
3 Support Fair Economic Development in Immigrant Communities (held by Faiza N. Ali )
.
2 Ensure Access for Health Care For all (Sarsour holds this sign)
.
1 Play an Active Role in Promoting Immigration Reform, Stopping Unjust Deportations (SEIU/1199 Rep held this sign)
.
++
Part 1 of 2 Videos : New York  (Monday, November 4, 2013) This Coalition Released New York's (illegal) Immigrant Wish List Ahead of the 2013 NYC Mayoral Election; a "Top 10 Wish List" of Priorities for the next Mayor of New York City.
This is ANOTHER election the illegals plan to vote in (" a full participatory process" )
++
Speakers in Part 1:
• Steven Choi, executive director, New York Immigration Coalition


• Linda Sarsour, Director, Arab American Association of New York
(she speaks  from
2:39-4:31
• SJ Jung, board president, Minkwon Center for Community Action
• Bakary Tandia, policy advocate, African Services Committee
• Elsie Accilien, executive director, Haitian-Americans United for Progress
++
.
Speakers in Part 2

• Angela Fernandez, Director, Northern Manhattan Coalition for Immigrant Rights (First 2-3 minutes is in SPANISH only)

• Guillermo Chacon, NYIC board chair and Director, Latino Commission on AIDS
++
NOVEMBER 5, 2013. VOTE LIKE YOUR LIFE DEPENDS ON IT.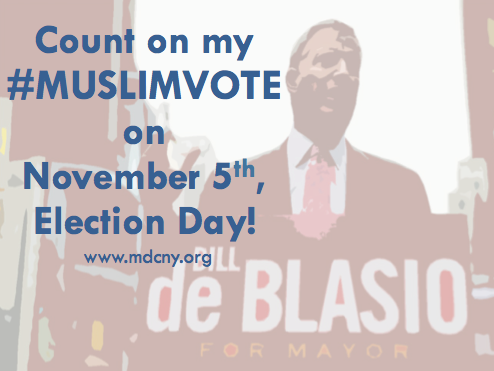 WAKE UP, NY. This is your Last Chance (for awhile) to STOP the "Progressive" madness.
TOMORROW : VOTE AS THOUGH YOUR LIFE DEPENDS ON IT.
.
The Illegal Immigrant Advocates KNOW… EVERY VOTE REALLY DOES COUNT!
++